This guest blog is written by BCre8ive Mentor Clifton Stewart.
The First Question?
How long is a short? A question film makers, particularly new ones, often ask when deciding to embark on making a 'great short' They know that a page of script is a minute of screen time, so how many pages should it be?
Really, there is no clear definitive answer, which should be a relief but often causes more confusion. A 'short' in the USA for instance is often referred to as a 'Short Feature' and can run for anything between 20 and 40, even 50 minutes long. In the UK and the rest of Europe a short film is regarded as having a running time of up to 15 minutes, with 10 being the most frequent length.
However, what film-makers should really ask themselves is not how long do I make my film, but rather how many minutes it needs to be? Often funded schemes for instance will only consider short film ideas of, around or under 10 minutes.
Even the role of the short film too is perceived differently depending on where you go, and who, you talk to in the industry. In the UK there is a perceived wisdom, thankfully now largely changing, that so long as a film is in focus, pays homage to a current blockbuster it will be enough, wobbly vision camera work being obligatory.
To say this is missing the point is being overly kind. The short film is extremely important and will often have as much care and attention, if not more than many feature films. The reason for this is simple, and kind of obvious without too much consideration.
"Short films are not inferior, just different." – Jane Campion
A great short film is the ideal calling card for new and emerging film-makers.
Often people do not have the time to view long films, so shorts from unknown talent, are more easily viewed – given the short time needed to engage, uninterrupted, with them. A short is an effective way to get attention, support and funding for other projects as you climb the ladder to Hollywood excesses. For established film- makers, both in front of and behind the camera, it is often an opportunity to experiment and at the same time work with people who will, some day soon, remember them when the budgets are bigger.
When Moth, a short I wrote was in pre-production I went to the technical read through at Ealing Studios. To be sat around a table with Oscar winners and nominees who were prepared to work on the short because they believed in the project, was a testament to the enthusiasm and commitment of many in the industry.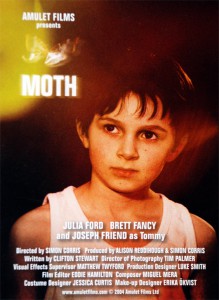 In my experience as a film festival programmer both here in the UK and the USA I am often very quickly made aware of how short films are often made with more care and attention than feature. Many shorts have quite stunning cinematography, others were driven by the music and others featured named and recognisable actors.
The range of themes and issues too can be more competently dealt with in a short film narrative than a feature. The shorter duration often lends itself to more intense and personal stories, a single issue or theme dealt with in a more focussed way, and making for compelling viewing.
As a calling card it is far easier to sit through a 10 or 15 minute short film that shows promise than a 90 or 100 minutes of a poorly produced feature. Just because you have a DSLR doesn't mean 'it' makes a good feature length movie. It is not the tool it is the person using the tool who makes the art.
Some UK Short Film History
In the 1990's, and early 2000's, the popularity of the 10 minute short in the UK was based upon funding of such shorts by both Channel Four, through schemes such as Short and Curlies, and the BBC's own 10 x 10. For a while this was maintained and expanded by the UK Film Council through the regional film funds. At one point over 300 shorts received public support in one year. Unfortunately, TV schemes are now rare and C4 have just converted their one new talent short programme into a feature development programme. While there are still some regional schemes most have disappeared and these funds are now focussed on 'micro-features'.
"Short films really helped me develop as a story teller, animator, and as a director."  John Lasseter
The Importance of Festivals
The main opportunity for shorts is still a film festival, even with the rise of online screening portals.  Having curated film festivals here and abroad, visited many film festivals and worked as a script editor and mentor on TV short film schemes there really are a tremendous number of good and strong short films produced each year.
Palm Springs and Clement Ferrand – a personal account
To put this into perspective, the two most important festivals are the Palm Springs International Film Festival in the USA and Clermont Ferrand in France. I have been lucky enough to have my own short films screened at both and attended the Palm Springs. Competition is fierce for all film festivals, and these two in particular, but it is worth persevering.
Palm Springs often has over 3,000 submissions and screens less than 300 short films. Clermont Ferrand often has a database of close to 5000 short films from all over the world.
These two among many film festivals will have some 'Hollywood' and certainly home grown industry interest in the screened films. Networking was intensive along with workshops, one to one sessions and the obligatory poolside parties, yes they really do take place.
Add to this the presence of actors, agents and producers the attraction for film-makers to attend is easy to see. It is also worth noting that the winning film at Palm Springs is Academy recognised and automatically considered in the short film category at the Oscars.
It is also useful to know that all films submitted to Clermont Ferrand in France – the biggest dedicated short film festival in the world – go into a market catalogue for viewing in the short film market whether selected for competition or not.
There are many more short film festivals in Europe and also the UK, an online search will bring these to your attention and it is also worth considering targeting your film to a festival covering similar themes and genres, start by looking at the closest city to you is a good way to start, then look wider
To Be Online or Not to be Online
Online portals and particularly the rise of YouTube and Vimeo do bring with them opportunities but also a dilemma form film-makers.
On the one hand everyone can now see your film – if they can find it!. The downside is that many Film festivals will say no to including any film that has been uploaded to YouTube.
It is probably best to keep your film to the festival circuit for a time, probably a couple of years before uploading, that is if you even decide too. In the event of your film being picked up by a short film distributor, likewise it should not have been uploaded.
However, Vimeo is often seen as a more 'professional' looking portal for online screening and certainly the films I watch password protected for programming reasons have all been on Vimeo. As it is password protected, Festivals may see this more as a distribution/marketing use than actual public screening as YouTube is.
Online is an important way to get your work seen, however, the sheer volume uploaded each day is breathtaking , 300 hours per minute to YouTube, which is why it is often best to submit and be included on a specific channel rather than go it alone and fight for your slice of views.
For sure have your own online presence but linking and piggybacking on a successful short film portal is a good option.
Finally…
Short films are needed, are highly regarded and certainly the way to go as a delivery method to showcase your talents to an international audience….but remember, even a great short film has to start with a great script.