Creating artist and maker targeted services and support
As a result of COVID-19 and the associated cancellation of events & exhibitions, restrictions on opening of local galleries and café's where artists' work is often displayed and substantial curtailment of the tourist season; the income of artists and makers in northern Devon (Local Authority Districts of Torridge and North Devon), as in many other parts of the Country, has been catastrophically impacted.
The ArtMakers Project, supported by the Government's Sustainable Innovation Fund, seeks to develop a set of resources that can not only provide targeted solutions to the specific issues faced by visual artists and makers in northern Devon, but provide a template for research and creation of targeted solutions for creatives across the UK.
CONSULTATION
In order to design a service that most effectively develops skills, saves artists & makers time and energy, and most importantly leads to an increase of income, we need to understand the issues from the artists' and makers' points of view.  We are therefore undertaking a series of 3 consultation exercises:
Identification of the main issues
Examination of priorities for marketing and delivery of services
Understanding the finances
The results of the first survey are now complete and here is what we learned:
WHO CONTRIBUTED?
The survey was open for 10 days and went out to approximately 300 local visual artists and makers via email and social media.
125 (40%) artists and makers responded, with most stating that they want to take part in the next stage of our research.
WHAT ARE THE ISSUES?
The first two questions focussed on the difficulties faced in carrying out creative work and getting it seen and sold.
Nearly 75% of respondents stated that the most significant issue for them was "Getting work seen" with access to funding and finance, time availability and connecting with others/networking also all seen as being particular problems.
The main issues identified included:
Limited access to local exhibition outlets
Cost of entering work in exhibitions, subscribing to online exhibition/arts sales sites
Lack of skills, finance and time available to maximise personal online and offline marketing effectiveness.
Managing cost of materials, studio space etc.
Poor access to finance particularly in relation to funders'/investors'/banks' understanding of arts businesses.
Limited ability to make a living from their artistic output
Lack of knowledge about where to find information about/access to local networks, sources of funding, business support etc.
Positive requests for community arts spaces, studio space, collective artistic practice
MAKING SALES
Having established the main difficulties in getting work seen and sold we wanted to understand:
What, if any, experience people had of selling online, and
For those who do sell online, which sites they use
64% of respondents do sell online leaving a significant 36% who have no online sales presence of any kind.  Of those who do sell online most still sell either via their own website or on social media.  Only a small number are registered with local online galleries or larger online art sales sites such as Etsy, Folksy and Artfinder.
Although some sales were limited to Devon alone; most respondents sell both locally and elsewhere in the UK with a small number achieving a wider reach, entering the international market.
BETTER INFORMATION, BETTER ACCESS
The next question that the survey looked at was aimed at understanding the degree to which additional skills and access to advice and support in marketing, business management, funding/finance and legal issues would benefit a range of tasks from creating new work to marketing/selling works and generally furthering their artistic careers.
To varying degrees all advice and support options with the exception of legal advice, were given relatively equal weighting.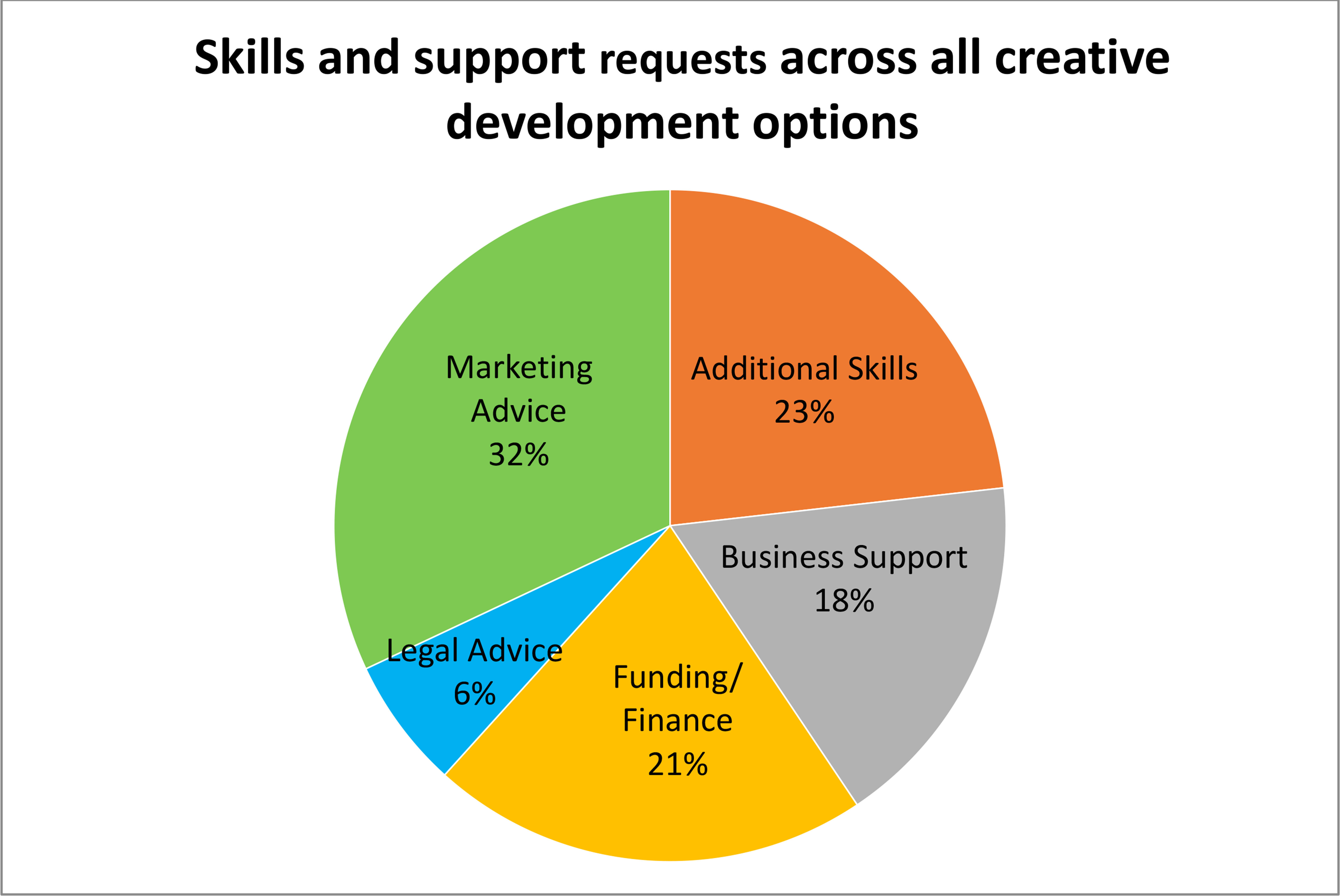 A follow-up question explored how people would prefer skills and support to be delivered.  Three options were offered:  information that people could use for themselves, online training and one-to-one mentoring.  Preferences were again fairly evenly split across the options.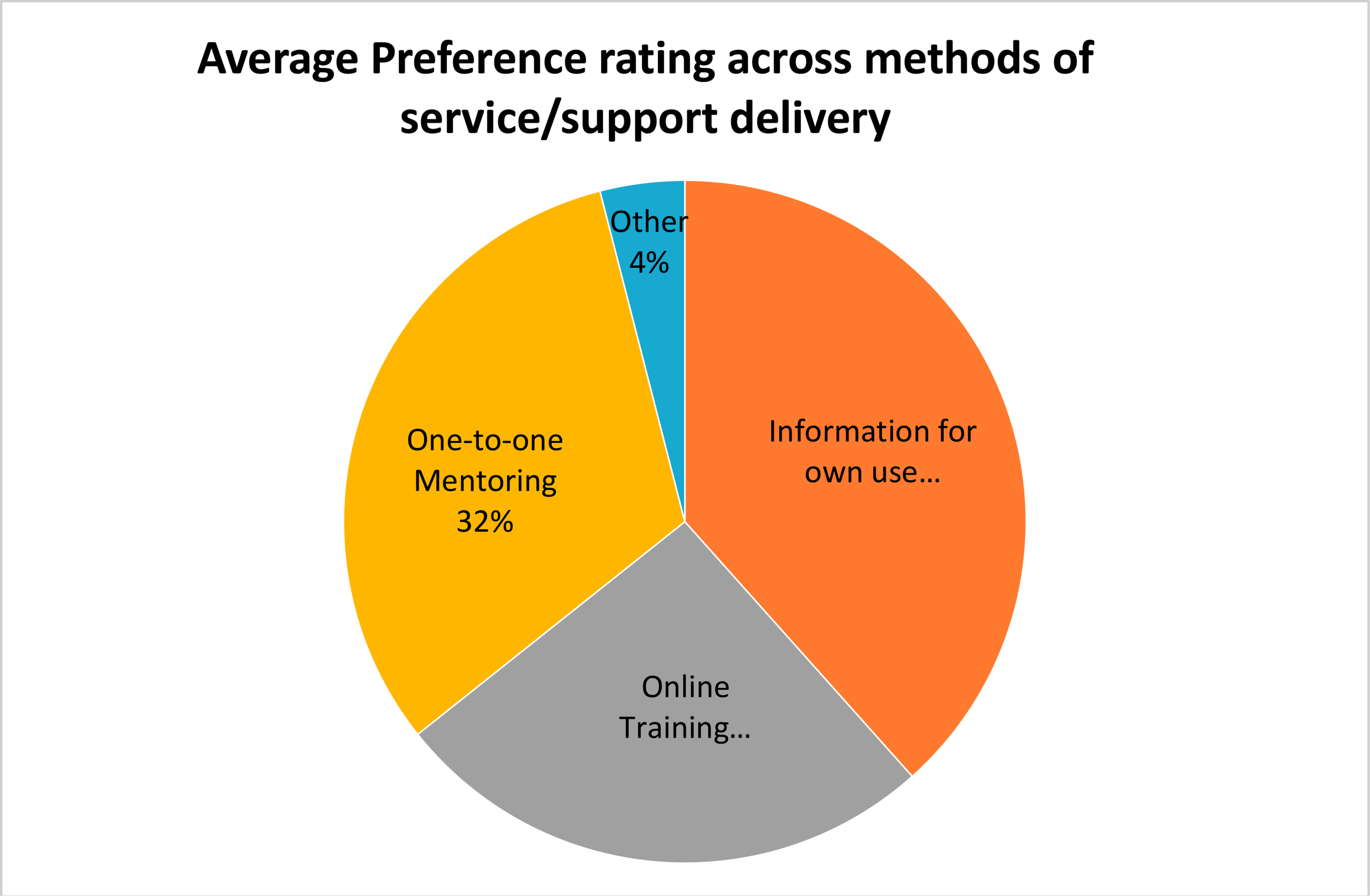 The Final Question asked respondents to identify their awareness of a selection of possible sources of arts/creative funding, whether they had ever applied for funding and/or been successful in making any applications.
Responses indicated a strong awareness of national sources of funds such as Arts Council England and the National Lottery, plus opportunities for bank finance and crowdfunding campaigns.  Respondents were also clearly aware of COVID-19 emergency funding, however this was lower than might have been expected given the publicity most schemes were given.
Awareness of other opportunities was notably low.
GOING FORWARD
Our responses showed that the artists and makers who took part in the survey:
Experience difficulties in accessing local exhibition space due to small numbers of venues, limited local footfall and cost. Online gallery space can also be costly and the local artists who use it find it difficult to stand out from the crowd.
Frequently lack the time and skills to maximise the effectiveness of their own marketing campaigns
Experience poor access to funding and financing of business development to finance expansion of product ranges, purchase materials and rental of studio spaces.
Expressed a desire for increased skills development and for increased information and support in the areas of marketing, business development and funding/finance.
Lack knowledge of where to find the relevant sources of information and support
Need some choice in the availability of delivery methods for information and support programmes.
The districts of Torridge and North Devon are both rural and coastal in nature with particular economic constraints arising from a dispersed population, limited transport infrastructures and a reliance on the tourism and hospitality industries.  The above results provide pointers towards the types of service that might most effectively benefit artists and makers from northern Devon, but more information is needed before it will be possible to target services more precisely.
The second survey in this consultation will therefore focus on the type of support that is most relevant to each individual.