This blog deals with our findings from the second survey of artists and makers in Northern Devon
From the first survey, we learned that the primary issues faced by the artists and makers who took part were:
Difficulties accessing local exhibition space due to small numbers of venues, limited local footfall, cost, and the impact of Covid on the local tourist trade.
Cost of online gallery space and difficulties in standing out from the crowd.
Limited time and skills to create strong and effective marketing campaigns
Limited access to funding and finance for the business development needed to enable expansion of product ranges, purchase materials and rent studio spaces.
Lack of simple, straightforward access to relevant sources of information and support
These latter points resulted in requests for:
Increased availability of skills development and information/support in the areas of marketing, business development, funding and finance.
Flexible delivery systems for information and support programmes
In this, our second consultation survey we sought to expand and develop the knowledge gained from the first survey by further investigating
Work Presentation
Skills and Training
Participation in Networks
It was also important for us to understand how many local artists and makers saw themselves as professionals having an aim to secure income from their work.
WHO TOOK PART?
The survey was open for 10 days and went out to a targeted group of 90 artists and makers all of whom had responded to the first survey and asked to be part of ongoing consultations.  74 (87%) of this group responded this time.
The Survey confirmed that over 85% identify as professionals with only 10 out of the 74 (14%) seeing themselves as amateur or hobbyist artists.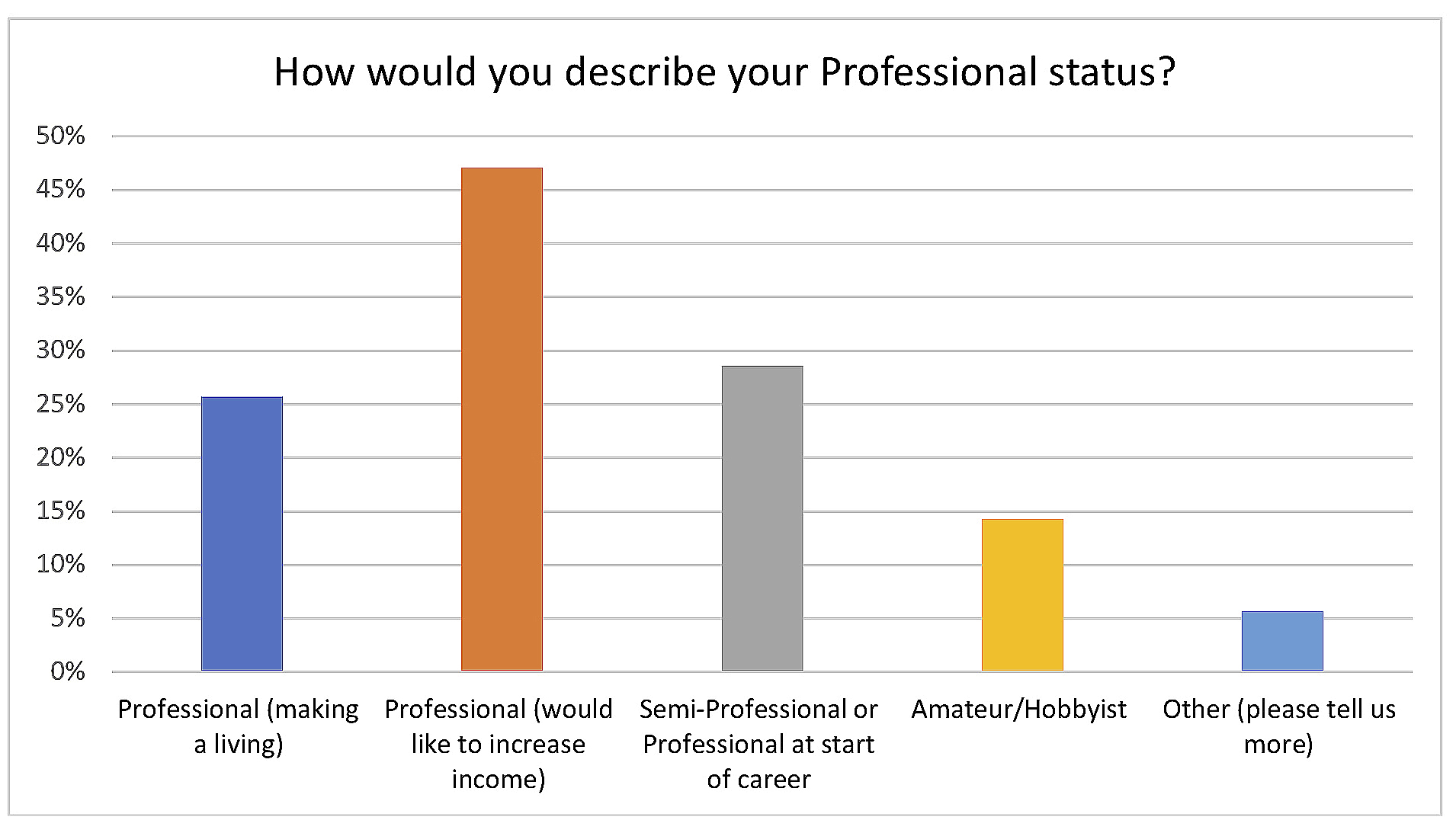 THE MAIN FINDINGS
The substantial majority of survey respondents are professional artists/makers, seeking:
Improved methods of presenting work online
Enhanced exposure to a wider and where possible more targeted range of online and offline markets
Improved sources of information and support relating to social media, marketing, business development and funding/finance
Opportunities to hone and develop both existing and new artistic skills
Existing barriers to achieving the above include:
Access routes to existing sources of information are frequently experienced as complex and confusing.
Lack of knowledge about what exists hinders online searches
Failure of training courses to effectively address the needs of artistic/maker practice and their potential market opportunities (NB: Where training, mentoring has been appropriately targeted the experience was felt to be positive)
Limited access to funding for training and materials
Alternative approaches to addressing funding issues included:
Peer-to-peer skills sharing/mentoring as alternatives to standard methods of training delivery.
Equipment sharing/exchanges and collaborative entry to events enabling sharing of space/costs as possible ways of reducing cost pressures.
The greatest value in network memberships was principally focussed on close geographic connections, professional status and targeted arts curation.   Greatest criticism arose where fees were considered to be poor value and where networks were felt to lack inclusivity.
WORK PRESENTATION
The artists and makers had a strong desire for potential buyers to be able to zoom-in to see detail of their work and to be able to view a piece of work as it might appear in their home or business.  Use of video came in as a strong second, closely followed by 360º presentations for makers working in 3 dimensions.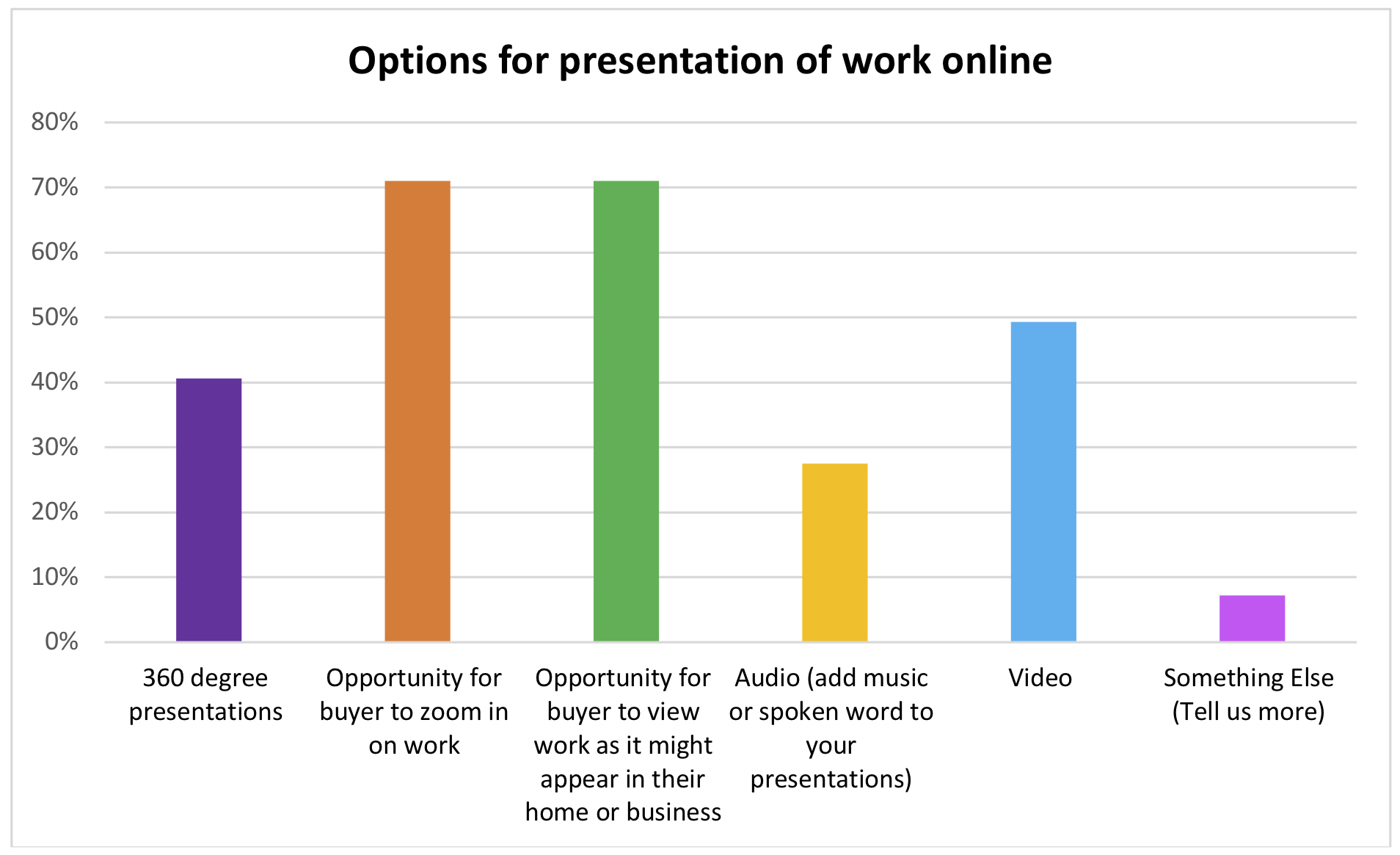 Respondents were also asked to identify ways that they would like to achieve greater exposure of their work.  Online options were prioritised as follows:
Opportunities to display work on a wider range of online gallery sites
Increased and more regular exposure on social media
Exposure in publications and other media
Opportunities to display work at events
Exposure to business outlets including targeting businesses relevant to particular types of artwork.
However, it was also clear the degree to which respondents felt the need to be able to return real world exhibition, gallery spaces, exhibitions and art fairs. 
SKILLS AND TRAINING
A set of Skills and Training questions focussed on areas where people wanted to build more skills, and past experiences when accessing/trying to access relevant training.
In particular, skills gaps were identified in:
Marketing, with particular emphasis on social media, presentation and confidence in self-promotion in order to extend market reach and
Business Development, where there an across-the-board need was expressed for a basic skillset relevant to running an arts/creative business.
Professional skills development was sought in relation to both new and existing artistic practice.
Funding, not unexpectedly, was frequently identified as an issue.  However, as an alternative to payment for course attendance/training some respondents saw potential in peer-to-peer skills sharing/mentoring and equipment sharing/exchanges.  Collaborative entry to events enabling sharing of space/costs was also put forward as a possible way of reducing cost pressures.
When asked whether people had engaged with business support, information sources and training in the past, we learned that nearly 75% had never engaged with any of these forms of support.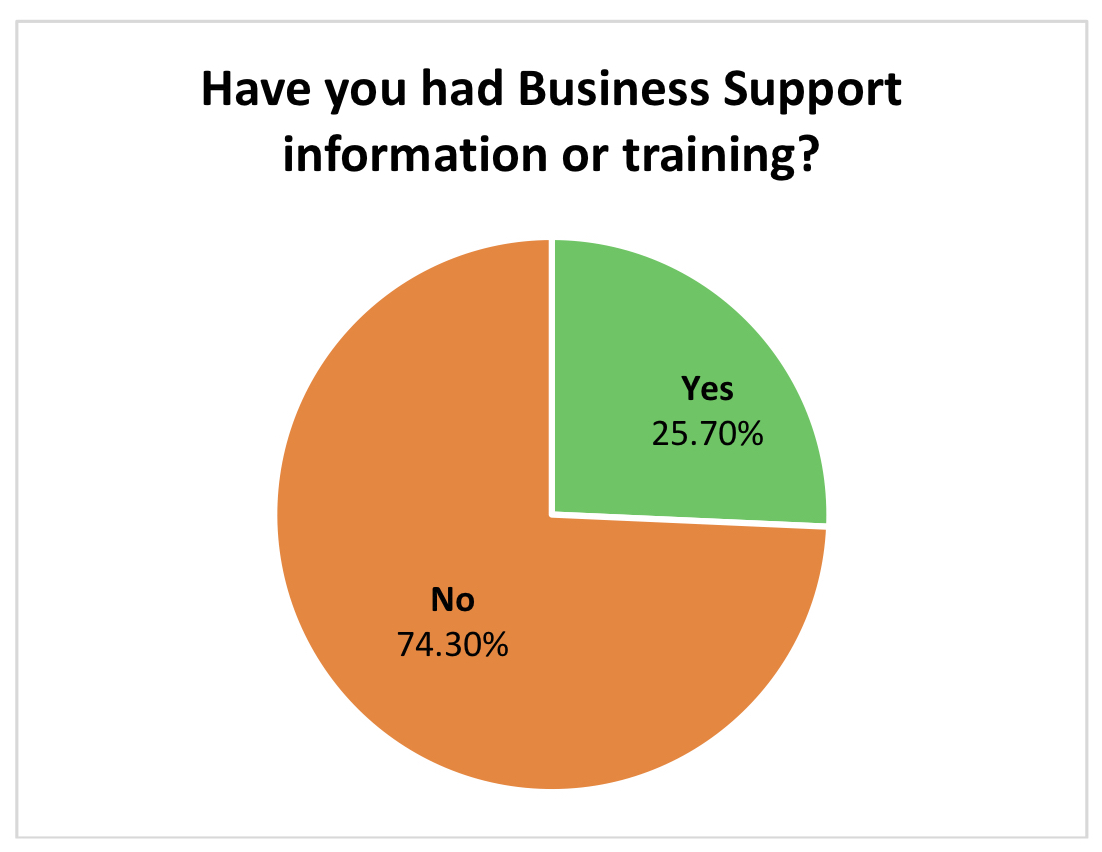 Of those that had, Social media was clearly the area of support most frequently chosen with marketing, business planning and funding and finance also seen as important.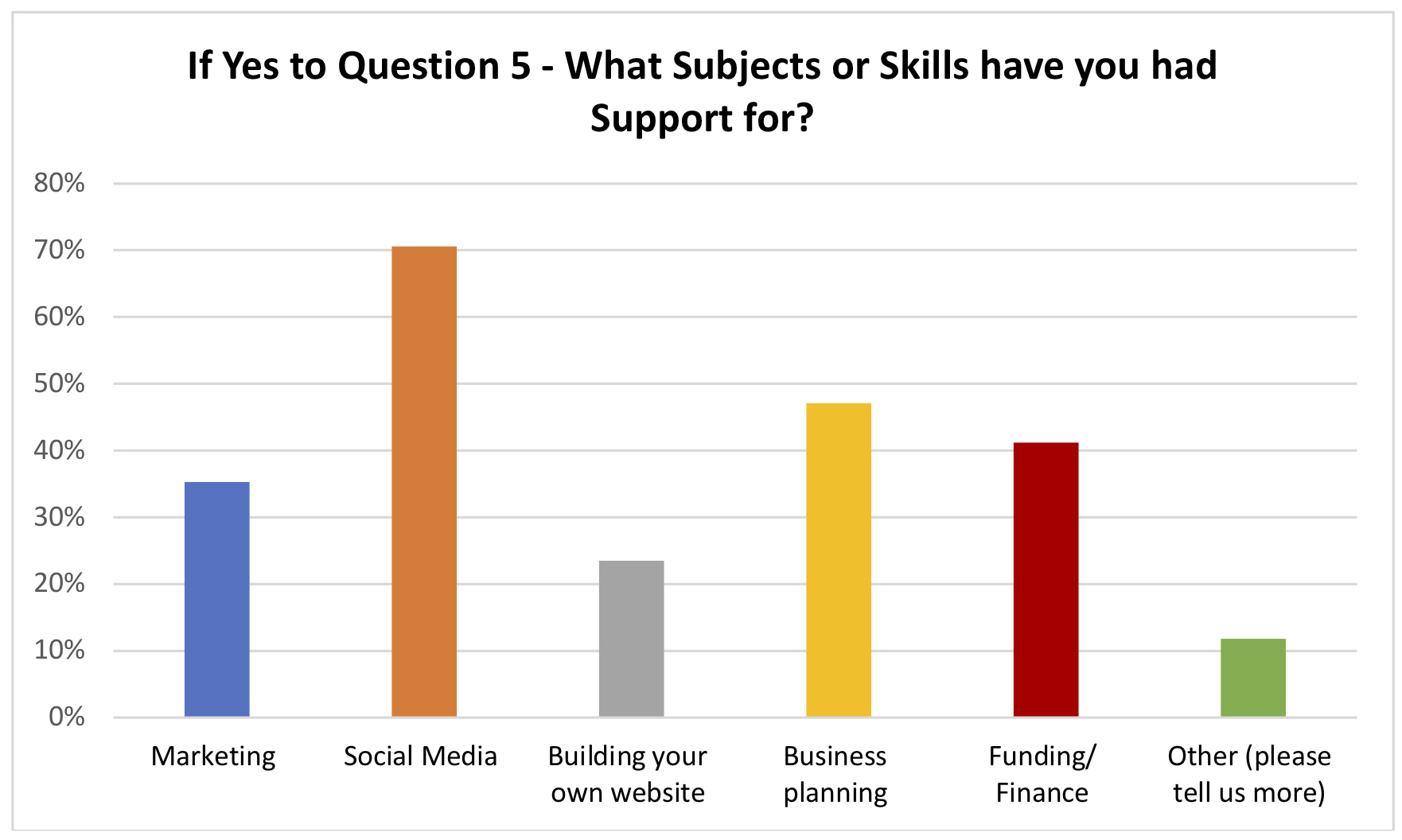 Most support was engaged with in the form of one-off training sessions, plus some longer-term courses and mentoring programmes.  Scores for the quality of the training received extended across the full range of 0-10, with 10 being vey good.
From comments received, the most frequently identified issues were:
Generic quality of much support, particularly in respect of business development, with consequent lack of relevance to people working in creative sectors.
Mismatches between expectations of users and delivery of support
Compartmentalisation of different areas of expertise, where a user had a question about a related topic, but the trainer was neither able to answer the question directly nor to point the user in the right direction to find an answer
Support sessions were particularly identified as being effective where an artist or maker had some existing knowledge about a topic but principally needed help to focus their business or marketing activities.
Mentoring and one-to-one support were scored well
Lack of follow-up was an issue for some.
Of the people who had NOT previously engaged with training, reasons given included: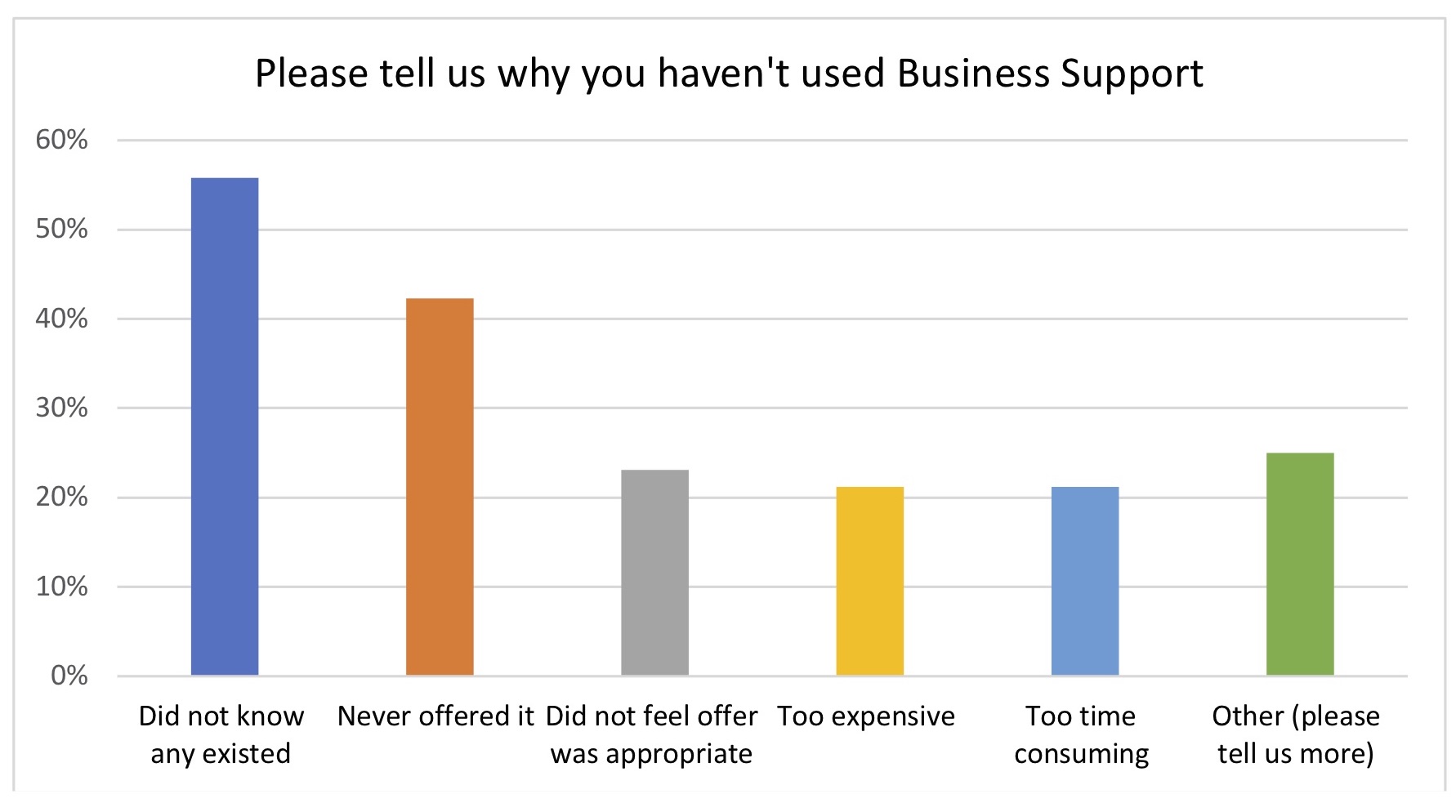 It can therefore be seen that over half did not know training existed or was available.  Just over 20% were aware that training was available but either did not feel the offer was appropriate to them, it cost too much and/or required more time than they had available.
Other reasons that people gave for not participating in business support included a re-iteration of an experience that available support is not sufficiently targeted towards artistic practice and a view that it was more effective to talk with peers or carry out their own research than participate in training.
NETWORKING
Next we looked at how well networked local artists are and discovered that two thirds of respondents are members of existing networks but nearly one third are currently working without networked support.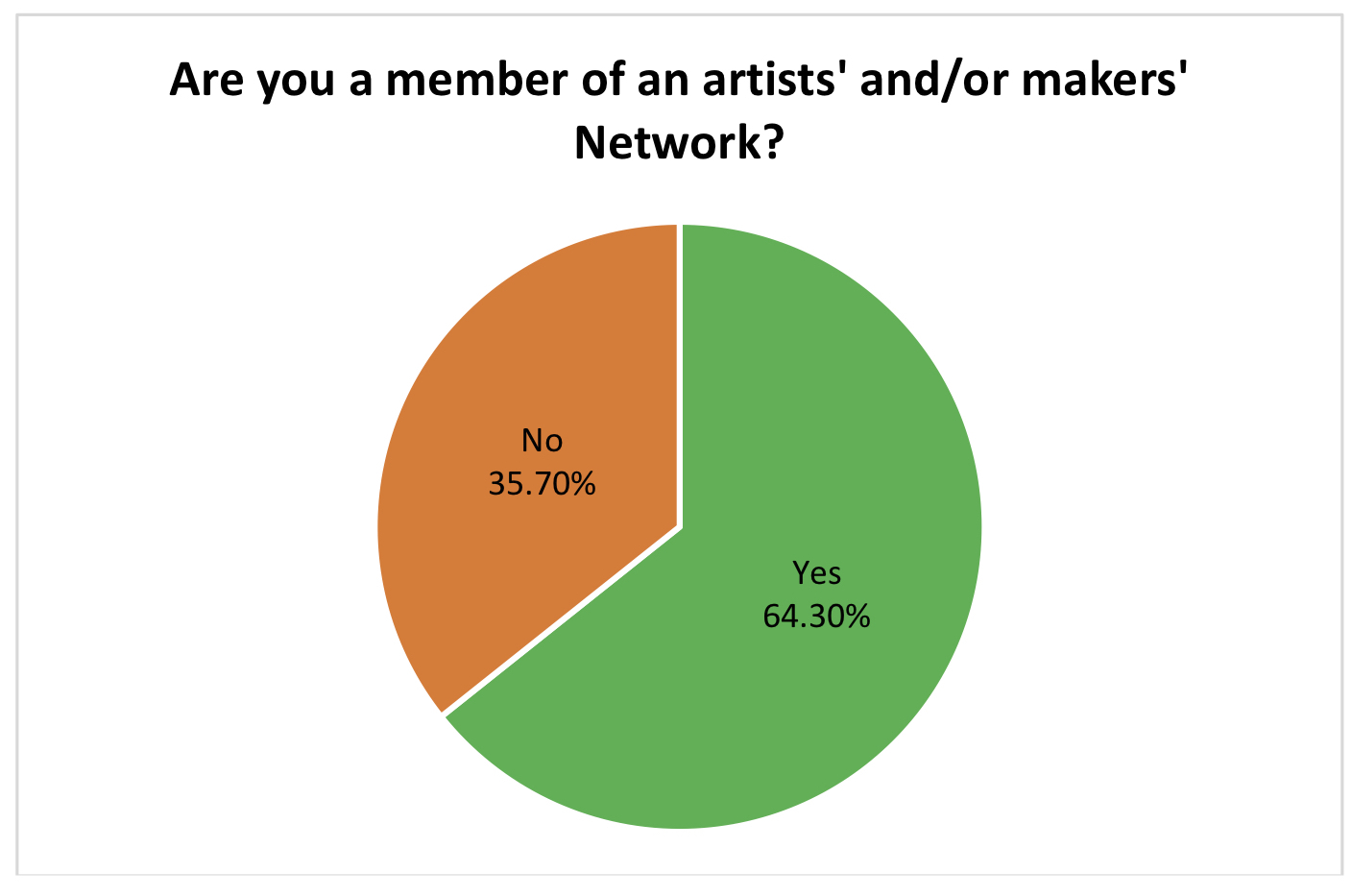 Of those that were already members of networks, the range was very wide with 34 different organisations involved.  The greatest membership activity focused around two well-established local networks, but other local networks and associations were also well represented as well as membership of a wide range of regional and national organisations.
We then wanted to see if there were any of the respondents had been members of one or more networks in the past but had chosen to stop being involved.  Reasons given varied significantly, but three reasons were consistently repeated:
Membership fees considered poor value
Changes of circumstance meaning that membership offer no longer appropriate for respondent
Lack of inclusivity in network administration, leading to respondent feeling like an outsider
NEXT STEPS
The lessons learned from the first two surveys are now allowing ArtMakers to design and develop a new website to address both the sales and information/support issues highlighted in these first two consultations
The sales side aims to provide new opportunities for presentation of artists and makers' work linked to a targeted marketing strategy aimed at accessing hitherto untapped buyers.
The information and support part of the site is being designed to create clear, time-saving systems for accessing information, training and other support opportunities.  Additionally, the team is recruiting mentors and advisors experienced in creative markets.
A third and final consultation survey is now in progress, focussed on issues relating to costs
The ArtMakers Project is funded through the Government's Sustainable Innovation Fund